According to the latest WHO and CDC reports, the new Omicron subvariant known as BA.2 is now dominant worldwide, prompting surges in many countries in Europe and Asia. It is rapidly spreading in the United States and is more contagious than the original omicron and its variant BA.1, raising fears about another outbreak.
The study conducted by Danish researchers at Statens Serum Institut (SSI), Copenhagen University, Statistics Denmark and Technical University of Denmark looked at about 1.8 million cases during the initial omicron wave of late November 2021 to mid-February 2022 and concluded that:
"Omicron BA.2 is inherently substantially more transmissible than BA.1, and it also possesses immune-evasive properties that further reduce the protective effect of vaccination against infection."
The CDC estimates that the BA.2 strain now accounts for more than half (54.9%) of coronavirus infections nationwide. In certain parts of the USA this percentage is even higher, reaching 72.6% in the Northeast.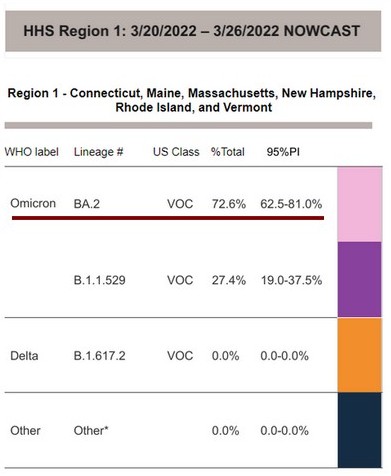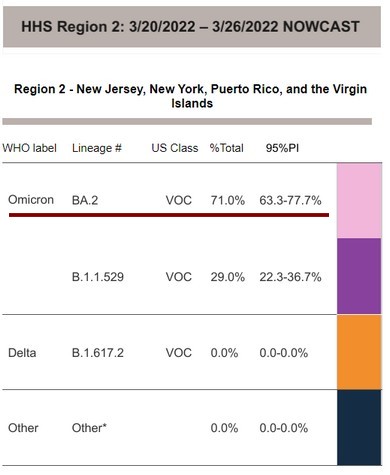 Key symptoms to look for
Health experts report a list of symptoms from people who recently tested positive for BA.2 omicron subvariant.
The most prevalent symptoms are runny or congested nose (80%), followed by new symptoms:
headache,
fatigue, and
dizziness.
Sore throat and sneezing were reported in 65-70% of people. A persistent cough was reported by 50% of people and other symptoms such as fever and loss of a sense of taste or smell were reported in 31-23% of people respectively. Other symptoms include: muscle or body aches, nausea or vomiting, diarrhea, shortness of breath or difficulty breathing.
If you develop one or more of these symptoms you should take a Covid test as soon as possible.
What to do if you test positive
According to the CDC recommendations, if your COVID test comes back positive, you should isolate and keep track of your symptoms.
The CDC created a Quarantine and Isolation Calculator that helps determine how long you need to isolate, quarantine, or take other steps to prevent spreading COVID-19.
Most people have mild illness and are able to recover at home. If you are an older adult or someone who is at high risk of getting very sick from COVID-19, you should contact your healthcare provide right away (even if your symptoms are mild right now) to determine if you are eligible for treatments that may be available.
You can also visit the ASPR's COVID-19 Test to Treat website to locate "One-Stop Test to Treat" sites (available at hundreds of locations nationwide) where you can get tested and treated with approved oral antivirals. A call center is also available at 1-800-232-0233 (TTY 1-888-720-7489).
Do not delay: Treatment must be started within the first few days to be effective.
If you have an emergency warning sign (including trouble breathing), call 911 immediately.
Reinfections may be possible
Research around the world suggests that although BA.2 is more transmissible than BA.1 and can reinfect people, the vaccinated persons are less likely to be infected and to pass on infection. As well, an earlier omicron BA.1 infection seems to provide strong protection.
In late January this year, Dr. Anthony Fauci, the White House's chief medical adviser, acknowledged that while possible, reinfections with the same variant are extremely rare.
"Sure, there are reinfections. But it is unlikely that if you mount a good immune response—at least over a period of several months—it is extremely unlikely that you will be reinfected with the same variant," Fauci told reporters. "The data also suggests that COVID reinfections are generally mild, no matter the strain."
The previously mentioned Danish study looked at about 1.8 million cases during the initial omicron wave of late November 2021 to mid-February 2022. During that time, the researchers say doctors recorded 187 COVID reinfections and only 47 of those reinfections involved people who had had both BA.1 and BA.2. That's a very low ratio — 47 in 1.8 million — suggesting that reinfections are indeed rare. This is an ongoing study so authors state that this data may change with time.
Monica Gandhi, a professor of medicine at the University of California, San Francisco, says that omicron reinfections could become more common than the Danish study suggests. Gandhi says the antibodies provided through infection or a booster vaccine may only last around four months. So, as that protection wanes, we become vulnerable again. This statement has been supported by a recently published study in the Lancet that suggests COVID-19 vaccine effectiveness decreases within three months after the second vaccine dose.
Cyrille Cohen, Head of the Immunotherapy laboratory at Bar Ilan University and advisor to the Israeli Ministry of Health, reports that the data collected in Israel from the largest COVID-19 study in the world, indicates that reinfection over a short period of time — that is, within two months — is very rare. Among the 2.5 million people who tested positive for the coronavirus, they observed only a few hundred cases of reinfection.
As public health experts drop mask mandates and other COVID restrictions, the CDC has been very clear about the importance of keeping abreast of COVID community levels where you live. If the COVID infection levels climb to high levels, it will become necessary to mask up again. But even if the levels only climb to medium levels, suggestions are to be more cautious again in public settings by masking up ― even if you have gotten vaccinated and had COVID.
The best thing a person can do is be up to date on vaccinations, monitor transmission within the community and make sure they are following the most current guidance from health officials.
Otherwise, it's probably safe to assume that you're pretty well protected against BA.2 if you recently had COVID and recovered, and if you're current on your vaccines, you're definitely protected against severe illness.
But as BA.2 circulates and other variants arise, which is likely, you probably shouldn't behave as though you're invincible, even if you recently had COVID-19.
As the WHO and CDC continue to closely monitor variances, as well as conduct independent and comparative analyses of the different corona viruses, Verséa Holdings will continue to provide the best available SARS -CoV-2 diagnostics tests.
To see all available tests, please visit:

CliaSupply
For customized pricing contact our representatives at 1-800-397-0670