At this year's NACS Show 2022 Verséa Holdings, Inc. is launching their new business division Verséa Health and their Product Line Portfolio Verséa Easy Lab™.
James Olin, Chief Commercial Officer at Verséa, explains the reason behind the launch:
"Verséa Health was created with a mission to give millions of Americans direct-access to the most essential and necessary health care services with an emphasis on prediction, prevention and value. Currently this access is out of reach for most Americans because high-deductible health plans now dominate the marketplace. 
Our goal is to provide economically accessible care through the disruption of traditional care channels and "de-medicalize" basic healthcare for most Americans. By providing instant, direct-access to the most desired and necessary healthcare services individuals can take control of their health, health information and level of care and intervention.
This launch also strategically fits with our focus on supporting new and more accessible locations of care like urgent care clinics and independent community pharmacies."
The Verséa Easy Lab™ product line
The Verséa Easy Lab™ product line that Verséa Health is launching at the NACS consists of rapid at-home, over-the-counter diagnostic tests that will be sold at many retail (C-stores) partners. These affordable, highly-accurate tests will enable people to check up on their health at any time and in the comfort of their homes. The currently available tests provide instant results and interpretation for:
Pregnancy,
Ovulation,
iFOBT (colorectal cancer),
6 panel drugs of abuse testing,
THC drug testing.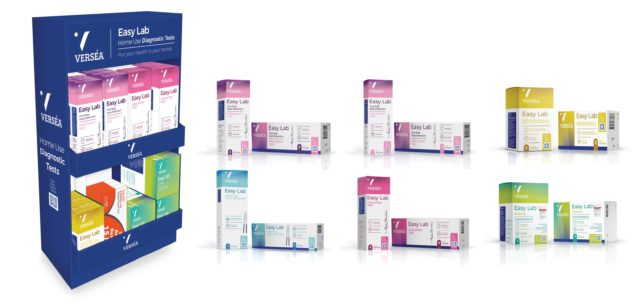 Discount Rx Card and App (up to 80% discounts on drugs)
Verséa is also introducing a Discount Rx card, that will give consumers access to deep discounts (up to 80% off) on prescription drugs at over 60,000 pharmacies across the US.
Consumers will also be able to download for free an App version of the card and use at a pharmacy and see the savings instantly!
To learn more about Verséa Health and the Verséa Easy Lab™ visit Verséa Health webpage, or contact directly at 1-800-397-0670 or info@versea.com.