At the upcoming International Fresh Produce Association (IFPA) Global Produce & Floral Show taking place in Orlando (FL) from October 27th to 29th 2022,  Verséa Holdings, Inc. is officially launching a new business division Verséa AgroTech and its proprietary next-generation Extended Shelf-life Packaging (ESP) System.
Dr Perry D. Lidster, Ph.D., the Chief Scientific Officer of Verséa AgroTech, an awarded scientist and innovator of the proprietary ESP System explains the value and benefits of the ESP System:
"The conventional corrugated box has been around for 75+ years, serving as a shipping container, not providing adequate protection of fresh produce from environmental factors: heat, moisture, post-pack contamination, and natural deterioration.
Our Extended Shelf-Life Packaging System is a next generation packaging that insures  extended shelf-life and security of fresh, perishable produce (fruits, vegetables, fresh cut flowers) throughout the supply chain – from growers' fields to retailers' shelves.
Our ESP system enables us to control the internal environment of each individual carton via a series of novel technologies. It is the only sealed packaging system that provides temperature abuse recovery and solves moisture problems, significantly reducing waste and incidence of harmful pathogens and contaminants.
We have an ability to pressure cool on pallet within 6 hours and re-cool cartons on pallet due to warming in cool chain.
Our technology is a result of 35 years of research in food packaging science and post-harvest physiology. It combines 9 patented and patent-pending innovations and is fully compliant with industry standards and infrastructure."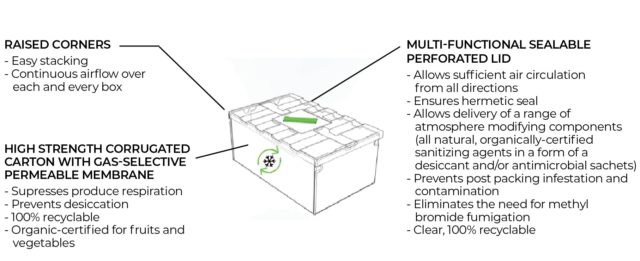 The Extended Shelf-life Packaging (ESP) system provides a hermetically sealed, thermodynamic cooling effective carton that is 100% recyclable and organic-certified for fruits and vegetables. It allows growers to harvest produce at prime ripeness and preserve freshness and quality of produce.
Robin Brooks, the President of Verséa AgroTech, provides insight into compelling trial results:
"We have compelling shelf-life trials in 7 product categories (fruits, vegetables and fresh-cut flowers) that show significant shelf-life extension, minimization of food spoiling and waste and retainment of product texture and weight.
When using conventional cartons, refrigerated shelf life of broccoli is 10 days and requires iced, wax box packaging. When using our ESP cartons, refrigerated shelf life extends to 32+ days, with no need for ice and wax box packaging.
Expected refrigerated shelf life of blueberries using conventional cartons is 10 days, while using our ESP cartons extends the shelf life to 35+ days.
The difference is significant."
Besides maximizing food safety and security throughout the supply chain, users of Verséa AgroTech's ESP system can optimize freight and logistic costs and reduce carbon footprint:
Shift air freight to sea and ground freight
Convert to intermodal carriers
Ship without ice and wax boxes
Avoid fumigation of US imports
Avoid cost of disposal and clean up
Access new, long distance markets, larger consumer base
Ease traceability, identifying the grower, farm, and the field lot down to a 5 acre segment for every produce box.
To learn more about the proprietary next-generation Extended Shelf-life Packaging (ESP) System contact the Verséa AgroTech team by email at agrotech@versea.com, phone at 1-800-397-0670, or fill out the Connect With Us online form.